Dr jaime Rodriguez Sierra hablando de Abdominoplastia (tummy tuck) en Venga la Alegria TvAztecaCirugia plastica Monterrey Mexico. Thermage, fraxel, botox, juviderm, liposuccion, aumento busto. Plastic surgery, liposuction, breast, augmentation, tummy tuck, facelift, reynosa, mcallen,rhinoplasty,young, cosmetic


Femme Couture, a brand of cosmetics sold at Sally Beauty Supply, has really stepped up their game, adding several new products to their line. One of them which caught my eye was this Mineral Effects Floral Blush, which came in several shades, boasting a gorgeous shimmering floral design baked right into the blush. This blush reminds me of the high-end bronzers and blushes we have seen this season, with intricate and gorgeous designs of bronze and pink intertwined with one another. To see more photographs,


Femme Couture Mineral Effects Floral Blush in "Blushing Mocha" is a gorgeous mineral blush with a peachy-pink  intricate floral pattern in a shimmering bronzer. The result is both lightly flushed and bronzed goddess, and will easily carry you into Autumn, being the perfect shade to sweep on your cheeks for some extra color as the temperatures become cooler. This blush feels super soft on your skin, and blends flawlessly. The mineral formula keeps your skin looking great, and the blush lasted on my face for the entire day – even through the one-hundred degree temperatures!


Femme Couture Mineral Effects Floral Blush is available in four shades: Plum Posh, Soft Spoken Pink, Blushing Mocha, and Dusty Mauve.  This blush retails for $9.99 at your local Sally Beauty Supply store . You can also browse and purchase this product online by clicking the photograph and link below: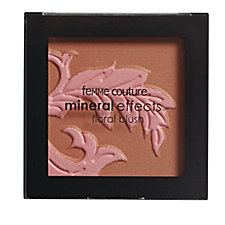 Femme Couture Mineral Effects Floral Blush Blushing Mocha


form , or leave a comment below.


Hard Candy has been around for over a decade, and I distinctly remember using their products when I was in my early teenage years. After a bit of a vacation in the cosmetics world, the brand came back, being sold exclusively at Walmart stores. With very reasonable prices, and bold, inspiring colors, they have a product line that I could just sit and test out for hours. One of my favorite Hard Candy products that is definitely worth picking up is Hard Candy's Baked Blush in "Honeymoon Peach." It is the perfect blush for very light to light skin tones, and the most gorgeous highlighter for medium and dark skin tones. To see more photographs,


Hard Candy Baked Blush in "Honeymoon Peach" is a gorgeous shimmering, light peachy-pink blush. This blush actually reminds me of NARS "Orgasm," and MAC "Stereo Rose," only lighter in color. For very light to light skin tones, this will make the most gorgeous peachy-pink blush for your cheeks. For medium to dark skin tones (like me), this makes a beautiful highlighting powder. I use this powder everywhere and anywhere that needs highlighting: above my cheek bones, on my cheek bones over my blush, my temples, above my lips, on my collarbone, shoulder blades, even down the middle of my legs! It has the perfect touch of shimmer and color to it, making your skin look alive and glowing.


In my swatches above, I applied "Honeymoon Peach" fairly heavily so the camera would pick up on the color. However, the result is subtle and natural, once applied. I have been asked several times when wearing this as a highlighter on my face how I got my "glow."


Hard Candy Baked Blush in "Honeymoon Peach" retails for $7, and can be found at your local Walmart location. You can also browse and purchase this product online by clicking the photograph and link below:

Hard Candy Blush Crush Baked Blush, Honeymoon Peach


form , or leave a comment below.


For this look, I used the New York Color Metro Quartet Palette in "Sandbar" from their limited edition "Sun Soaked" Collection that is currently out in drugstores. I love NYC eyeshadow, as it applies smooth and full of color, and this palette caught my eye with the pop of purple in it. To see how I used this palette and achieved this sultry look,


To achieve this look:



Apply #1 to your inner eye and blend upward. This will help make us look less tired and give us a pretty sparkling shimmer to our eyes.
Apply #2 across your entire eyelid, stopping at the crease. Blend out the edges with a fluffy blending brush, and make sure you stop at the crease. Focus fire that color in the middle of your eyelid.
Apply #3 from your inner crease to your outer crease using a pencil brush. Use windshield wiper motions, and apply this color across the entire length of your crease, especially focusing on the inner crease so this color pops. Using a fluffy blending brush, blend out this crease color so there are no harsh lines.
Apply #4 to the outer one-third of your eye, and pat down. You don't want this shade to be super dramatic or outdo the purple crease color, so simply pat this color down on the outer-third of your eye, and blend with your fluffy blending brush. It will add a very subtle smokey look to your eye.
Apply #3 to your bottom lash line with the same pencil brush. This will add a gorgeous smokiness, and bring together the purple crease.
Line your lower water line with a black eyeliner. Curl your eyelashes and apply your favorite mascara.


Viola! Sandbar Eyes that are one part flirty, and one part sultry.


On my cheeks I used MAC Mineralize Skinfinish in "Stereo Rose," for a peachy-pink glow. NARS "Orgasm," or any other peachy-pink blush you have will work beautifully with this look.


On my lips I used MAC "Frankly Fresh" lip gloss from the Liberty of London Collection. This was limited edition, but is a gorgeous peachy-pink nude gloss which really lets the eyes be the star of the show.


The New York Color Metro Quartet Palette in "Sandbar" is limited edition, and can be found at your local drugstore where New York Color Cosmetics are sold. For locations near you, use the store locator tool . What I love the most about NYC Cosmetics are the prices – this eyeshadow palette cost me under $5 total!


form , or leave a comment below.
We are in the peak of summer and there is no sign of things cooling down ever. So, why not make the best of the heat and flaunt your best summer looks ! That's exactly what we will be doing with our In The Sun Series – showcasing a bunch of fun summer looks !
I woke up this morning at about 11 :45 AM – great time for a weekend brunch ! Gathered up a couple of friends and hit a new brunch spot only to have them say they were done serving brunch. So we headed out to the lake side for a sunny lunch. Thankfully we scored a great table ! It was fun looking at all the boats passing by and checking out people slathering on SPF so they could enjoy their time in the sun without burns. We also contemplated buying boats …but that's another story for another time.
The ruffle top and jeans shown above are from Express.
This is what I wore to brunch. I went with a very natural looking minimalistic peach /pink look. Its almost morning ( not technically at 1 PM but go with me on this, will ya ?) and I couldn't fiddle with a laundry list of products. Also more importantly I was having a 'as good as it gets' skin day so of course I had to showcase the good skin and keep things minimal !
Face
– Envision Beauty – The Solution moisturizer
– Covergirl Tru Blend Pressed Mineral Foundation – 04 Soft Honey
Eyes
– Mild shimmer peach shade from Pur Mineral Paint by Number Kit (now discontinued)
Substitute with MAC Paradisco Eyeshadow
– Flirt It Curl Mascara
– Julie Hewett Eyeshadow – Vita for my brows.
Cheeks
Becca Soft touch Blush – Song bird
Lips
– Estee Lauder Double Wear Stay In Place Lip Pencil – 01 Pink
– Smashbox Lip Enhancing Gloss – Pulse
I like applying the lip gloss first and going over it with my lip pencil. Took me a grand total of five minutes to dress up. Paired with a gray ruffle top and jeans I thought I looked very much brunch-y given that I am not a dress / skirts kinda girl. Very pleased with myself on this one !
What would you wear for a Brunch In The Sun ? Let us know in the comments !
Love,
Indian Girl
I found L'oreal HiP Pure Pigment Shadow Sticks on clearance in my local drugstore for $2.00 a piece. I often times look for extreme markdowns in the cosmetics section, and since I know how rich and pigmented all the L'oreal HiP products are, I grabbed three of these. Since I don't see this product on the L'oreal website, I am guessing these are discontinued in the United States, hence the reason they were on clearance. Regardless, I have seen these in several stores around me still, and they are well worth the purchase. To learn more about these extremely pigmented shadow sticks,
L'oreal Paris HiP Pure Pigment Shadow Sticks are multi-use eyeshadow sticks that are literally pure color. They are so intense and rich in color that a little goes a long way. You can apply these shadows wet or dry – simply wet a brush and dip the brush into the stick for a wet look, or apply straight to the brush dry. The wetter your brush, the more intense the pigmentation of the color will be. I saw several shades in the store, but I was drawn to the three above colors for their versatile uses. I chose all metal shades: Exquisite, a gold metallic eyeshadow, Alluring, a mocha metallic eyeshadow, and Dazzling, a silver metallic eyeshadow.
These pigment sticks work fantastic as a base, or alone, and will not crease. I wore these shadow sticks with my regular eyeshadow base, and they did not budge until I removed them. The reason for this is because the shadow sticks dry into somewhat of a "powder" feel on your skin, rather than being creamy. The lighter shades would look fantastic in the inner corners of your eyes for a bold look, and would also be a great addition to your lipstick or lip gloss, for a gorgeous metallic sheen.
L'oreal Paris HiP Pure Pigment Shadow Sticks retail for $6.99 each at your local drugstore. I believe L'oreal is getting rid of this product, and is putting them on clearance in many locations. If you spot these shadow sticks, you will want to give them a try, if not for their insane pigmentation and crease-resistant wear.
Thermage body tightening treatments produced by Solta are inventing an important kind of anti-aging and body laxity treatments for aesthetic physicians, cosmetic or plastic surgeons and medspas that gives another nonsurgical treatment to just about any cosmetic practice; Radio frequency skin tightening. But, you'll find possible problems which both Thermage and subjects can confront.
Thermage has also implemented a new business model which unfortunately costs any MD for each Thermage treatment just by 'expiring' any Thermage treatment tip after a fixed number of 'pulses' and a certain time, despite the fact that a tip continues to be operational. It leaves a aesthetic physician or plastic surgeon in the situation of buying procedure tips that may work, except that they have been artificially turned off.
Along with new teatment tips priced at around $1200 for getting a single treatment and laser centers under growing pressure to maintain sales levels, loads of laser clinics and MDs are looking at vendors to activate these tips for even more use by just changing a counter inside the chip and systematically activating the tip to allow further Thermage procedures.
According to Thermage and Solta tips are deactivated to ensure protection.
Thermage's standing regarding reactivating previously used Thermage tips:
"The biggest examination we know of concerning Thermage is a four yr study carried out by Weiss,1 and it basically included six hundred subjects. On top of that, the particular claims from the Stevens publication may be very inconsistent with immense volumes of Thermage quality and reliability information we have released on our offerings over the years. We recognize the dielectric membrane layer on the Thermage tip could fail when subjected to a tiny percentage of the continued use this publication alleges is possible. Dielectric breakdown can result in patient harm.
You will discover certain complications which may develop from treating individuals with damaged Thermage tips that can include burns and the break down of underlying body fat which will leave irreversible depressions. Although, with many more medical spas and MDs interested in squeeze out a profit everywhere they can and grey-market vendors capable of sell used treatment tips for hundreds of dollars below any list cost, such patterns may well grow.
For anyone figuring out exactly what cosmetic surgeons and medical doctors operating medspas think about the latest Intense pulsed light (IPL) and dermatology skin technologies offerings out of Sciton, Candela, Alma, Cutera, Cynosure, Lumenis, Solta, Syneron, Palomar and others, or procedures such as Thermage skin tightening, Slimlipo, Dysport, tumescent liposuction and laser treatments, make sure to check out all the cosmetic fractional skin discussions of Medical Spa MD, a online community of health professionals in cosmetic medicine.
SwitchMD.com is a cosmetic Thermage community of Plastic Surgeons, Cosmetic Dermatologists, and Aesthetic Physicians with more than 5,000 physician members and hosts the most current physician discussion forums on Fraxel and non-surgical cosmetic medical technologies.
Next Page »