Why did you choose to get into such a girly industry? My life is surrounded by women. My wife Tara and I have three beautiful daughters, Oliva 11, Eve 8 and Orla 5, so I guess I'm destined to work for women for the rest of my life (a high class problem).
Ali Hewson and Bryan Meehan, the creators of NUDE.
On a serious note, I started my career in a girly industry when I created Fresh & Wild in London in 1998. Fresh & Wild was the largest chain of organic food stores and is now part of Whole Foods. That's where the idea for NUDE came from. I spent a lot of time there looking into what women wanted. I realized women were making a compromise with their beauty by going natural. NUDE was created so that going natural would not be a compromise.
I love working with women. I remember a professor at Harvard telling me to hire more women. They are loyal, better at multitasking (we all know men only can do one thing at a time), they have higher standards and they don't spend their lives looking to move to the next job for a 10% pay raise. Women work on things they enjoy doing that make a difference… Anyhow, she gave me good advice, and I acted on it.
I've also been incredibly fortunate to have a business partner like Ali Hewson . She's an amazing role model, mother, business woman and loyal friend, and not at all affected by her rock-star husband 's lifestyle. She's the most down-to-earth person I know.
What's the hardest thing about creating a brand like NUDE?
Working with women! No, seriously, we set the bar high with NUDE on our ingredients , our packaging and our ethos. We were determined to avoid the ingredients we believe are harmful, yet deliver clinically proven visible results in products that look, feel and smell sexy and luxurious. It wasn't easy!
It's great to know you're having a real impact on women's beauty regimes. We've created a brand which has genuinely changed the industry as the first luxury, natural skincare brand that works. No more compromise on beauty or wellbeing.
If NUDE was just going to be 'another skincare line' I wouldn't have done it. The world didn't need 'just another skincare line'. NUDE is special and worth all the crazy hours and fluctuating time zones. It's changed people's skin, their lives and their perception of what natural products are able to do. We have had an opportunity to show the skincare industry that you don't need to use synthetic ingredients to achieve beautiful skincare results.

Vídeo introdutório de entrevistas de Dr. Fabián Idrovo à diversas redes de televisão.
I think, finding quality products at the neighborhood drugstore does this to me. Its the Milani HD Advance Concealer ($6.99) y'all. I not only love this product, I feel so good about it that I am recommending it to everybody !

Yellow Yellow Sweet Little Fellow
The Miani HD Concealer comes in a click pen model looking all bright and blingy in its gold packaging. One of the biggest concerns I've had with drugstore concealers has been the lack of yellow pigment. Most of them are pink or just plain beige. You pat it under your eye and they sit there staring into space …doing nothing to hide your dark circles. This is why Milani gets much of my love – its truly yellow based. Check that out !
Nobody can complain about the lack of warmth. Its exactly what a warm skinned person like me needs to look bright and fresh !

Alicia Keys & I – Concealer Best Buds
I saw that the shade Medium Honey was used in Alicia Keys so I decided to try the same. Its perfect on my NC 40 (medium tan) skin tone. I almost feel like Alicia and I are best buds ! We use the same concealer , that's got to mean something !
One more major good thing about the concealer is the formula. I can never wear concealer and head out without applying some foundation because I feel like the concealer is too obvious. But with Milani HD one the formula sinks into your skin and merges with the top layer so well that I look naturally dark circle free. So now I don't have to add foundation just coz I did the concealer ! And for someone who likes to keep it as less as possible with makeup – this racks up huge points in favor of the concealer.
I am not the biggest fan of the click pen but really this isn't a complaint. I assume many women love it given that one of the best selling concealers of all times YSL Touche Eclat is a click pen.

Procedimiento para relleno en Rostro,Jaime Rodriguez Sierra, Cirugia Plastica, Monterrey Nuevo León México, www.jaimerodriguezsierra.comCirugia plastica Monterrey Mexico. Thermage, fraxel, botox, juviderm, liposuccion, aumento busto. Plastic surgery, liposuction, breast, augmentation, tummy tuck, facelift, reynosa, mcallen,rhinoplasty,young, cosmetic

Dr jaime Rodriguez Sierra hablando de Abdominoplastia (tummy tuck) en Venga la Alegria TvAztecaCirugia plastica Monterrey Mexico. Thermage, fraxel, botox, juviderm, liposuccion, aumento busto. Plastic surgery, liposuction, breast, augmentation, tummy tuck, facelift, reynosa, mcallen,rhinoplasty,young, cosmetic


Femme Couture, a brand of cosmetics sold at Sally Beauty Supply, has really stepped up their game, adding several new products to their line. One of them which caught my eye was this Mineral Effects Floral Blush, which came in several shades, boasting a gorgeous shimmering floral design baked right into the blush. This blush reminds me of the high-end bronzers and blushes we have seen this season, with intricate and gorgeous designs of bronze and pink intertwined with one another. To see more photographs,


Femme Couture Mineral Effects Floral Blush in "Blushing Mocha" is a gorgeous mineral blush with a peachy-pink  intricate floral pattern in a shimmering bronzer. The result is both lightly flushed and bronzed goddess, and will easily carry you into Autumn, being the perfect shade to sweep on your cheeks for some extra color as the temperatures become cooler. This blush feels super soft on your skin, and blends flawlessly. The mineral formula keeps your skin looking great, and the blush lasted on my face for the entire day – even through the one-hundred degree temperatures!


Femme Couture Mineral Effects Floral Blush is available in four shades: Plum Posh, Soft Spoken Pink, Blushing Mocha, and Dusty Mauve.  This blush retails for $9.99 at your local Sally Beauty Supply store . You can also browse and purchase this product online by clicking the photograph and link below: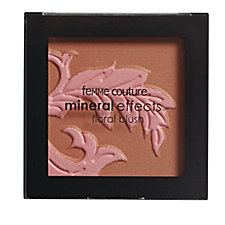 Femme Couture Mineral Effects Floral Blush Blushing Mocha


form , or leave a comment below.


Hard Candy has been around for over a decade, and I distinctly remember using their products when I was in my early teenage years. After a bit of a vacation in the cosmetics world, the brand came back, being sold exclusively at Walmart stores. With very reasonable prices, and bold, inspiring colors, they have a product line that I could just sit and test out for hours. One of my favorite Hard Candy products that is definitely worth picking up is Hard Candy's Baked Blush in "Honeymoon Peach." It is the perfect blush for very light to light skin tones, and the most gorgeous highlighter for medium and dark skin tones. To see more photographs,


Hard Candy Baked Blush in "Honeymoon Peach" is a gorgeous shimmering, light peachy-pink blush. This blush actually reminds me of NARS "Orgasm," and MAC "Stereo Rose," only lighter in color. For very light to light skin tones, this will make the most gorgeous peachy-pink blush for your cheeks. For medium to dark skin tones (like me), this makes a beautiful highlighting powder. I use this powder everywhere and anywhere that needs highlighting: above my cheek bones, on my cheek bones over my blush, my temples, above my lips, on my collarbone, shoulder blades, even down the middle of my legs! It has the perfect touch of shimmer and color to it, making your skin look alive and glowing.


In my swatches above, I applied "Honeymoon Peach" fairly heavily so the camera would pick up on the color. However, the result is subtle and natural, once applied. I have been asked several times when wearing this as a highlighter on my face how I got my "glow."


Hard Candy Baked Blush in "Honeymoon Peach" retails for $7, and can be found at your local Walmart location. You can also browse and purchase this product online by clicking the photograph and link below:

Hard Candy Blush Crush Baked Blush, Honeymoon Peach


form , or leave a comment below.
Next Page »